CALEMATIC® WHEEL CHOCKS FOR TRAILERS
Universal – Securing the berth and staff
Maintenance simplicity
System for chocking trucks
During the loading and unloading phase, the risk of the fork-lift truck falling is very common.
There are two main causes:
Unexpected departure
Progressive movement of the dockside trucks.
Solution:
The Calematic is a system for chocking trucks:
Universal
Fully automatic
Buried in the ground, without the risk of damaging the trailers
Sturdy and reliable, very low maintenance costs
Adaptable to the environment of all docks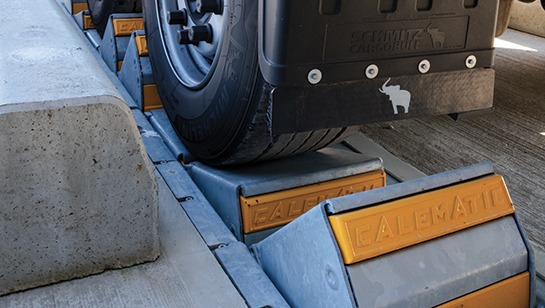 The Calematic® Standard Operation Mode
1. Reversing the truck
2. The chocks rise automatically when the sectional gate or barrier is opened.
3. Once the chocks have lifted, the operator is allowed to set up the dock leveller to perform the transhipment operations.
4. At the end of these operations, the operator can put the dock leveller to the starting position.
5. When the sectional gate or the barrier * closes, the chocks are unblocked. The truck is then allowed to leave.1.
* Other types of servo-control systems are possible if specifically requested.
The exchange of information between the warehouse and the dock is done via signal lights.
We have made the BIM files for this product available for free download.
BIM (Building Information Modeling) allows you to model building information.
This technological advance makes building planning, design and management easier from the construction phase right through to demolition. You can download our intelligent 3D models.